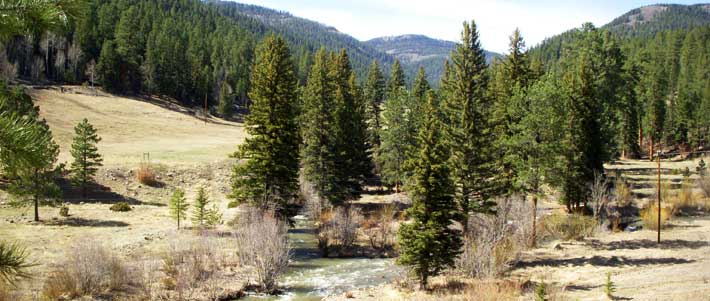 In over a decade in the Pecos Valley, we have developed some relationships that are worth sharing with you.
High Desert Angler 505 988-7688
460 Cerrillos Road, Santa Fe, NM – At the Sandoval split
Our roots to fly fishing start at this shop. High Desert Angler owner, Jarrett Sasser, introduced us to fly fishing in 1999 and over the years, we have developed a great friendship. On this website, I make many references to private access to the waters in the Pecos Valley; High Desert Angler is your key to getting access to some prime fishing on the Pecos. Many of the waters that HDA fishes are showcased on this website. Jarrett is very picky about who guides for him and, as a result, he's got a top notch guide staff. The shop is a full service fly shop, including an excellent assortment of quality Umpqua flies, fly tying materials that will support fly tying needs for Northern New Mexico flies, gear from the leading fly fishing manufacturers like, Simms, Sage, Echo, Rio Products, Ross, Lamson-Waterworks, Scientific Angler, Fishpond and more.
Pecos River Cabins  – (505) 757-8752
Pecos River Cabins is a great vacation setting for visitors to the Pecos area. Each of the four modern cabins overlooks the Pecos River.  They are a very convenient, short drive to our school.  Many times on multi-day lessons, I will teach a portion of a lesson at the cabin, followed with fishing the river at the property.
Friends of the Pecos National Historical Park
The Friends group provides volunteer, event and financial support for the Pecos National Historical Park, which lies south of the Village of Pecos.   The Park is a great place to visit while you're in the Santa Fe/Pecos area.  The Friends group greatly appreciates your support.
Pecos Business Association
www.pecosnewmexico.com

We've been members of the Pecos Business Association since 2010. Their website is a great resource for things to, places to stay and eat and much more in the Pecos area.
Upper Pecos Watershed Association 505 757-3600
78 South Main Street, Pecos, NM – across from Casa de Herrera Restaurant
The Upper Pecos Watershed Association (UPWA) was formed in 2006 under a grant from the New Mexico Environment Department, Surface Water Quality Bureau. The grant funds were available under provisions of the Clean Air and Water Act, Section 319. UPWA is incorporated as a 501 (c) 3 nonprofit, tax exempt organization and is governed by a Board of Directors elected by its members. The primary focus of the UPWA is to address non-point source pollution issues in the Pecos watershed. UPWA will also undertake to address other significant ecological, environmental and related problems within the Upper Pecos Watershed. UPWA holds annual Stakeholder Meetings which are open to the public and prospective members. The meetings are to educate and inform all stakeholders of UPWA actions and progress, present information of general interest relating to the watershed, and also give stakeholders the opportunity to provide input on issues of concern to them.
Important projects that the Association has done since its inception are the "Hatchistery" Project, which restored the river between Lisboa Springs Fish Hatchery and Monastery Lake; the Watershed Restoration Action Strategy which identified areas in the Pecos watershed that should be targeted for restoration improvement; and the Collaborative Forest Restoration Program, which studied wildfire risk in the Holy Ghost, Dalton and Winsor Canyons.