Private and Group Fly Fishing Instruction
Our private and group fly fishing instruction is designed to be flexible to the needs of our clients. The programs that are listed below are samples of how a fly fishing class can be structured for you, your family, or a small group. Fly fishing is a skill that you won't master in one lesson, rather it's a progression that you'll learn bit by bit over an entire lifetime. Each class can be presented between one to three days, with more content and detail provided for the longer programs.
The Santa Fe Fly Fishing School is not a fly fishing guide service. If you are looking for a guide, we will gladly make a recommendation.
Couples Trout Fishing Class
6 hours; $360; Up to 2 students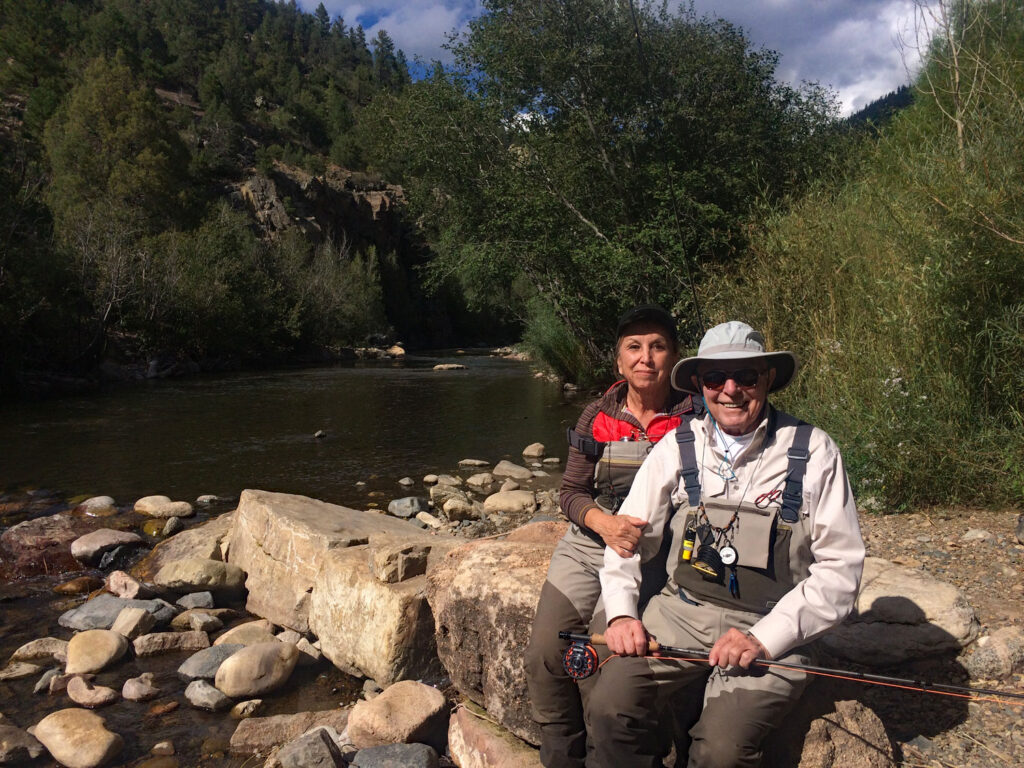 Combine learning the art of fly fishing for trout with a vacation or long weekend in Santa Fe. Our Couples fly fishing class is structured to allow you to spend part of the day learning how to fly fish, and then spend the remainder of the day exploring Santa Fe's museums, churches, shopping, and fine dining. Lessons will begin at 8 am and wrap up at 2 pm. We recommend Pecos River Cabins as a good nearby place to stay.
Interested in couples trout fishing lesson
6 hours;  $360;  Up to 2 students.
Basic Trout Fishing – Part 1 workshop is designed to give an introductory exposure to fly fishing on a trout stream. You will acquire some of the basic knowledge needed to understand fly fishing and techniques that will orient you to fishing on moving water.
Our assumption is that our student has a very limited knowledge of fly fishing and would like to have the skills needed to have some independence when fly fishing. This workshop is predominantly hands-on that is conducted in a combination of classroom, lawn, and on-stream settings.
Sign up for Basic Trout Fishing -Part 1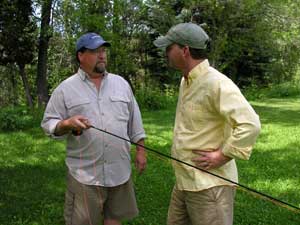 Fundamentals of fly fishing gear to help you make educated choices about rods, reels, fly lines, and leaders. We'll guide you through the selection process to figure out what you need and what you don't need.
Knot tying and rigging for trout

Basic knot tying enables you to connect all of the pieces, from the backing on the reel to the fly on the end of the leader. Setting up your leader and flies to fish for a variety of trout fishing situations.

Accessorizing for fly fishing.  The accessories that are available to fly fishing anglers can be overwhelming.  This section will cover things beyond the rod, reel, and line.
Casting  Basic fly casting, including fly casting mechanics, basic overhead false cast – single-handed, then two-handed

, roll cast, coping with wind and awkward placement on the stream.

On-the-water experience casting, line management, and learning how to dead drift your flies.
Basic Trout Fishing – Part 2
6 hours; $360; Up to 2 students
This workshop is predominantly on the river applying knowledge acquired during Basic Trout Fishing Part 1, then expanding into new concepts and techniques. For fly fishers who have some experience and feel that Part 1 is too much review, this workshop will be a good starting point.
Topics covered:
Stream insect entomology and fly selection.  Classroom, introductory overview of aquatic and terrestrial insect entomology as they apply to fly fishing.  Proper fly selection is the ultimate goal for the fly fisher, we incorporate this into the entomology discussion.
Filling your fly box. Making a decision about what flies you need to have available on fly fishing outings can be highly confusing. We will take the entomology discussion and give you guidance on how to put together a good general-purpose starter fly box for trout fishing outings.
Casting review. Casting is a skill that requires lots of practice to develop proficiency. Reviewing what you've been taught in the past and expanding on these skills will go a long way toward your development as a fly fisher.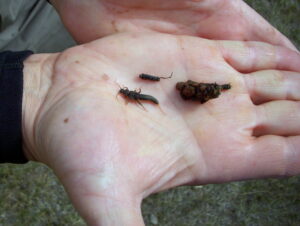 Bug sampling and fly selection on the river.  While sitting down around a table and learning through pictures and discussion is a good starting point, there's a need to have practical hands-on experience.  Here we will get into the river, make observations of our surroundings, and sample the river substrate and flowing water in various locations to figure out what our best fly selections will be for the time that we're fishing.
Trout habits and needs. Knowing how and why trout behave to provide for its food, shelter, and oxygen helps the fly fisher seek trout where they are most likely found.
Reading the river. Similar to trout habits and needs, the ability to understand the trout stream water will improve the trout fisher's chances of catching fish.
On-the-water experience casting, line management, and learning how to dead drift your flies.  While book knowledge in a classroom setting is very valuable, putting that knowledge to practice is the only way to become a successful trout fisher.
Striking, playing, landing, and releasing the fish. Since the goal is to catch trout, and in many cases, it is to release fish, understanding how to do this with the least amount of harm to the trout is very important. Poor technique may result in a released fish, but not necessarily a live fish in a few hours or days after release.
Sign up for Basic Trout Fishing – Part 2
Basic Trout Fishing – Parts 1 & 2
8 hours; $460; Up to 2 students
This workshop is a compressed version of Parts 1 & 2.
Sign up for Basic Trout Fishing – Part 1 & 2
Fly Casting Instruction
$80 per hour; Up to 2 students; 3-hour lesson bundles $220.
Interested in fly casting lessons
You may be an accomplished fly fisherman, but still struggling to get a consistent longer cast, maybe having trouble with casting accuracy. Or, you may want to learn fly casting before you move into trout fishing. At the school, our FFI-certified casting instructor, David Lemke, teaches hourly lessons that will help you develop fly-casting skills. He will present a program that you can use to become a proficient fly caster.
The pre-paid, 3-hour lesson bundle can be broken into separate lessons.
Trout Fishing Entomology & Fly Selection
2 hours; $150 per student
Interested in Learning Trout Fishing Entomology
Understanding aquatic insect entomology can make the difference between being skunked on a day of fishing and catching your limit. Our Trout Fishing Entomology & Fly Selection class gives you a layman's understanding of the major aquatic insects: caddisflies, mayflies, stoneflies & midges. You will learn to identify each group of insects and select the right fly imitation. The class is broken down into two parts: First is a classroom setting where information about each insect group is described and the fly selections are demonstrated; Second, we go out on the stream and look at what's in and around the river, collect samples and select flies that would be used for fishing on the day of the class.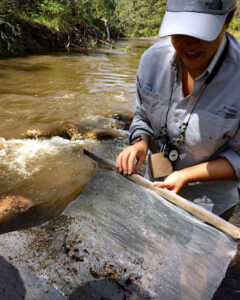 During the summer months, when the bugs are most prolific and fish are often feeding, the class will be conducted in the evening so we can get the maximum learning experience from hatching and laying insects.
While the insects that you learn about will be the same, the bugs that will be on the river will vary during the course of the seasons. As expected, the best variety of insects is found in the Spring and Summer months. They taper off in the Fall and Winter months.
Fly Tying Instruction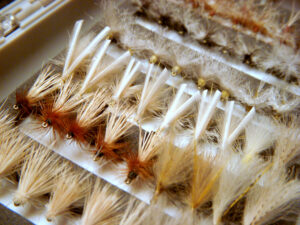 Fly tying brings a whole new dimension to your fly fishing skill set.  While you will never save money by tying flies, you will be able to adjust your fly choices to closer match the bugs that are on the waters that you are fishing.
Learn how to tie flies used for trout fishing, including dry flies, nymphs, and streamers.
Individual and small-group classes are available.
Interested in learning to fly tying
Saltwater and exotic fishing expedition preparation
$80 per hour; up to two students.
I have over ten years of experience prepping students for fly fishing trips to exotic fishing destinations, from bonefish in Belize to peacock bass on the Amazon. Having spent the last 34 years on the Texas Gulf Coast, I have taught hundreds of fly fishermen how to cast to and catch, saltwater and exotic species. This prep work can be done right here in the middle of the Sangre de Cristo Mountains. In this class you will learn to cast a fly to distances over 50 feet and how to cast from the bow of a flats boat on a casting platform.